SecureNow
As cybercrime becomes more sophisticated, so must the measures we take to ensure your safety and security while banking online.  With the introduction of SecureNow, a new Multifactor Authentication (MFA) service delivers a one-time passcode verification feature.  The Bank of Bridger wants to continue to ensure your Online Banking experience remains safe and secure. This added security feature is designed to confirm your identity and prevent unauthorized access to your account information.
Login Defenses – A real-time decisioning tool utilizing your device and location attributes to defend against cyber fraud.
Out-of-Bank Authentication – If the real-time decisioning tool determines additional authentication is needed, you will receive a Security Challenge and be given the option to receive a one-time passcode (OTP) via text message or automated phone call to complete the login process.
All personal Online and Mobile Banking users will be required to enroll a phone number to deliver your one-time passcode(s).
After the SecureNow enrollment is complete, the passcode verification will appear each time our system does not recognize your desktop or mobile device or detects suspicious activity.
To avoid interruption in accessing your accounts, please make sure the phone numbers listed on your accounts are accurate.  To view your current contact information, you must log into online banking through a supported browser. Click on "Profile" at the top right of your screen. You will then see options to make changes to your phone numbers, email and more.
Instructions for SecureNow Enrollment
Choose how to receive your one-time passcode
The Layered Authentication is a security feature designed to protect the privacy and security of your personal information. The one-time passcode is used to authenticate your device.
To receive your OTP via Text Message
Enter your mobile phone number if you would like to receive a text message with your one-time passcode.
To receive your OTP via Phone Call
Enter your home phone number if you would like to receive a recorded voice call with your one-time passcode. If you do not have a home phone, enter your mobile phone number here.
Help tip: Enter your mobile number and verify/enter your home phone and work phone. If your home phone is your mobile number, also enter your mobile number is the home phone field. If the phone information is invalid, you will not be able to log in to Online Banking.
If you have any issues with getting SecureNow set up, contact Online Banking Support at 1-800-488-8489 or stop by one of our 12 branch locations.
Instructions for First Time Log in with OTP
Enter your username and password and click Log In.
Receive your one-time passcode
Text Message
Choosing "Send text message' will prompt the system to send you a SMS text message with the one-time passcode. This SMS message can only be sent to a mobile device. If you log in through the Bank of Bridger Mobile Banking app, you will automatically receive a text message.
Phone Call
Choosing "Call phone" will prompt the system to send you a recorded voice call with the one-time passcode. This call can be sent to a mobile device or home phone.
Enter your one-time passcode
Once you receive your recorded or SMS delivered passcode, you will be prompted to enter the passcode.
When the passcode has been entered, and "continue" is selected, the user will be taken to the home screen and you can continue your online banking session.
Want more information?
Watch the tutorial of SecureNow for more information.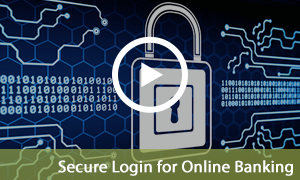 Message and data rates may apply. Contact your mobile service carrier for applicable fees.